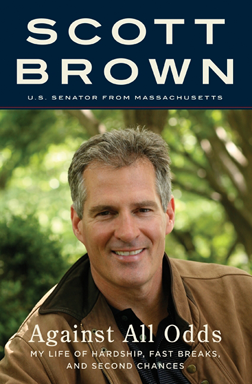 Camp Good News, a non-denominational, independent, non-profit Christian summer camp for boys and girls ages 6-15, is in the news for reasons which make me and some of my close personal friends who were former campers there sad, uncomfortable and perhaps even a little angry.  And it is not because the legendary camp recently celebrated its 75th anniversary.  U.S. Senator Scott Brown of Massachusetts and former male model, publicly proclaimed on the eve of the release of his memoir, "Against All Odds: My Life of Hardship, Fast Breaks, and Second Chances", that he was molested as a child at a camp on Cape Cod, while officials at Camp Good News on Snake Pond in Forestdale (a village within the oldest town in Massachusetts,  Sandwich in Barnstable County)  confirmed that Senator Brown was a camper there.
In an interview with Leslie Stahl on 60 minutes to air this evening, Brown told Lesley Stahl of CBS News he was sexually abused at age 10 by a camp counselor on Cape Cod. "Fortunately, nothing was ever fully consummated, so to speak," Brown says in the preview for the show airing this evening, the day before his memoir "Against All Odds" is released.
The Boston Globe quoted Senator Scott Brown saying he will never forget his abuser and "his long sandy, light brown hair; his long, full mustache; the beads he wore; the tie-dyed T-shirts and the cutoff jeans, which gave him the look of a hippie."   I will leave it to journalists to question the authenticity of Scott Brown's timely proclamation, and whether his coming forward was anything more than 'pathetic plea for publicity.' To be clear Scott Brown did not run to authorities to unmask an alleged sexual predator, he and his handlers ran to Harper Collins in a political re-branding effort.  Furthermore, if you ask me, his rather vivid description of his assailant almost sounds like some made up fantasy profile or caricature of a conservative's view of a rather liberal looking predator; that is circa the first Nixon Administration. Is this perhaps maybe an attempt by a RINO Senator in Democrat lands to shore up votes on the left by 'emancipating his [inner] Oprah', well  in advance of his re-election effort or the launch of a Presidential campaign?  Was the hippie abuser/counselor holding a copy of the Koran and smoking a joint as well? Inquiring minds want to know especially since in my entire time period at the camp,  counselors came from mid-western Christian Colleges and were relatively clean cut and not at all the caricature of a hippie described by Scott Brown. On the other hand perhaps Ben & Jerry, after a bout of the munchies and creating Cherry Garcia, came down from their place in Vermont while they were 'riding that train' in their tie died t-shirts, long hair and beads to administer the assault and threatened 'to kill him' if he ever said anything." A friend who can trace their lineage at he CGN to a few years before mine, to the years during and before Scott Brown's attendance at the camp, and who continues to send his/her own kids there, has a similar recollection. As this friend reminded me, the  camp has been run by the same core of Willard/Brooks family members and a steady core of counselors who tend to return year after year.  Many former campers now send their own kids to the camp.
Despite the sensational allegations, the response of Camp officials has been exemplary. Camp Good News representatives have handled the fallout with remarkable candor and grace. Officials at a the Cape Cod camp attended by U.S. Sen. Scott Brown reached out to Senator Brown.  Rather than contesting or questioning the allegations, stated instead that they applauded his coming forward with revelations that he was abused as a child by a summer camp counselor.  Jane Brooks, who serves as director at Camp Good News acknowledged that the Wrentham based Republican Senator, attended the family run Christian camp but could not confirm whether the incident happened there. Ms. Brooks, nevertheless expressed that they are "sick about" Brown's description of the abuse and further that "We're crushed." Dr. Stephen W. Brooks, a Hyannis surgeon and assistant president at Camp Good News stated "I think what he did was courageous."
According to the Associated Press Brown told Cape and Islands District Attorney Michael O'Keefe he doesn't want to seek criminal charges against his alleged assailant. Brown would  thus not identify him, despite stating (see above) that 'he could never forget his abuser.' Camp officials stated also that they do not know the alleged attacker's identity. Brown said he didn't write about what happened to him "to settle any scores" but to prove to people that they can overcome adversities and move on from the past.  So let me see he leaves a family run Christian camp established by an American hero,  W. Wyeth Willard,  a Naval Chaplain with the Marines in WW II, and his wife Grace Willard, an institution that has never had any such allegations against it in its storied history, forced to accept the truth of such allegations without the ability to verify or substantiate them, while the DA is asked to refrain from investigating and the alleged or shall we say "imaginary" abuser perhaps created to help Brown sell his legend and a few more books, remains free at large? Does this not strike one as fascinatingly convenient for Senator Brown?
I spent 6 summers at Camp Good News on Cape Cod between the ages of 9 ½ and 15 years of age followed by a summer at Chop Point in Maine, while my best friend and little brother Gregory spent 9 summers there.  I am a New Yorker born and raised, rather close in age to Scott Brown. And while I may not otherwise have had a reason to doubt his story, I also have no reason to question the sincerity, character or integrity of any members of the Willard/Brooks family, especially that of Jane Brooks or her brother Dr. Steve Brooks.  As I sit here and reflect, I consider myself fortunate that my parents had the wisdom to extract me from the urban turbulence of 1970's New York City, during the summer months. The guidance, wisdom, perspective and genuine friendship I received from so many folks, too numerous to mention, remind me still how to live a more responsible and purposeful life.  Hence, I still believe that was one of the better decisions made by my parents during the critical and formative years of my life. While I have and continue to live a far from perfect life and do not consider myself deeply religious, the lessons I learned in terms of respect for my fellow human being, commitment to community service,  respect for our country,  self sacrifice, reverence for our maker and recognition of a higher purpose in this life beyond my own self indulgence is one that still serves me well. You may leave Camp Good News but Camp Good News truly never leaves you. The tears shed at the end of the summer when we were forced to say goodbye to our friends, new ones and old ones, before heading back home seem so fresh in my memory. I wish sometimes I could blink my eyes and be back there in my youth for a day, for a week for a summer frozen in time, sitting at the snack bar enjoying an ice cream sundae, losing a sprint on the A Field to Lisa Thursby, a childhood crush who was mostly a better athlete than me, or waking before dawn to run down to the flag pole a the shout of  "Odie Baloney Let's Go" by Head Counselor Oakie during color war.
There is something so American Gigolo about the Julian Kay like swagger (i.e., hustle) of the Massachusetts Senator. Hence perhaps you will forgive me, if I simply do not buy Scott Brown's fabulously dark fairy tale. Given my experience and that of many close to me during a similar time period,  Scott Brown's tale does not resonate.  His story rings hollow. That  more mainstream media sources are accepting his allegations at face value despite his unwillingness to name or unmask and refusal to help prosecute his alleged abuser is troubling, especially if the Senator has any regard for other victims of abuse.  As mentioned above,  Scott Brown did not run to authorities to unmask an alleged sexual predator, he and his handlers ran to Harper Collins.  The natural question is  from where do political creatures like the Cosmopolitan Scott Brown derive their ethics and morality?
Let me see, it is acceptable to defame a family run Christian institution that has improved countless lives while you conveniently choose to forgo pursuit of the alleged (i.e., imaginary) abuser?  Senator Brown, need I remind you that you are hardly in a position of weakness at this time. You are a prominent, powerful and popular U.S. Senator, rumored to have Presidential ambitions.  Surely I can see how a protracted investigation and perhaps your own credibility being called into question might tarnish your political image, undermine sales of your book, reduce your chances of re-election and hamper your chance to secure the White House some day.  But what of  potentially other victims of sexual abuse at the hands of this alleged predator? Oh yeah and then there is that other thing about lying under oath that may be sort of problematic.  Victims networks such as the SNAP Network and The Innocence Mission should be hesitant to let  Scott Brown off the hook so easily.  They should not allow themselves to be duped into silence but should instead force disclosure  of the alleged abuser, assuming there even was one, if the goal is truly to protect all victims of sexual abuse and not simply to rubber stamp Brown's PR Campaign.
I am left only to wonder when Scott Brown actually began 'turning tricks', politically speaking of course.  And secondarily, whether Brown and his handlers are merely laying the groundwork for further bombshell disclosures about his life experience, perhaps during his days as a male underwear model, and any other activities that may have occurred in the backrooms of Studio 54.  Then after the full on Oprahfication, any other things that come to light will be viewed in the context of or as a result of a previously traumatized individual behaving in a manner consistent with  that of other  survivors of male sexual abuse.  If so that is truly Machiavellian indeed; Brown doing his own vetting in his own time. But in that case let us be clear that it was the truth and the sterling reputation of a Christian Summer Camp founded by a WW II Hero that were molested in Massachusetts, not Scott Brown.
Please note:  This blog has been reprinted by permission on the websites Plymouth Daily News and  Cape Cod Today and was also run on Shatter our Silence Worldwide.
SEE ALSO
-The Boston Globe, Joan Vennochi: For Brown, a perplexing connection
-Kansas City Star: Senator Scott Brown breaks silence on sexual abuse
-Wakefield Patch:  Sen. Scott Brown Says He Was Abused As A Child Growing Up in Wakefield
-Plymouth Daily News:  Scott Brown's Trauma
-Cape Cod Today: It's time for Scott to let them take his inner child by the hand and lead him to safety.
-CBS News Boston: Cape Cod Camp Reaches Out to Sen. Brown About Sex Abuse Allegations.
-Cape Cod Today: Camp Good News Sexual Abuse Hotline
-Boston Herald: Scott Brown blasts critics over his support for Perry
-Boston Globe: Sen. Brown defends decision not to pursue abuser
-Boston Herald:  Scott Brown Played Down Claims of Victim
-Lynnrockets' Blast-Off: Scott Brown Enables A Child Molester to Roam Freely.
-The Wichita Eagle:  Mary Sanchez: Brown breaks silence on male sexual abuse
-Black & Right: Scott Brown 'Abuse' – Fake?
-The Wakefield Daily Item: Sen. Scott Brown book called "lies"…"pure fiction"
-Cape Cod Today: Sen. Scott Brown book called "lies"…"pure fiction"